Do you remember that time when you were so scared—you swore you were going to die? Don't even think about comparing the eternally significant things in life with one of your transition experiences such as wondering whether or not you passed your mid-terms, how you might sneak out of the store while wearing stolen goods, lying to a parent about your grades, breaking a neighbors window, or lying to your spouse.
Somehow, those situations pale in comparison to wondering whether or not you're pregnant, whether or not you passed your HIV/AIDS test, or being forced to keep your mouth shut after having witnessed a heinous crime. After all is said and done, none of these comes close to experiencing life through the lens of true fear.
Everyone has an embedded sense of fear of something or someone. Maybe you're that person who is fearful of death, marriage, church, God, drowning, aging, or worse? Hidden inside the inner workings of our mind rests an eternally inspired roadmap, which leads directly to the only solution for filling that Grand Canyon sized hole in our heart. Many hear this and say, "Not me!" while others know through first hand experience the staunch reality of this statement.
Remembering the early days of childhood brings wretched memories for some; days filled with loneliness, despair and screaming parents. There always seemed to be an endless supply of episodes filled with avoidance and submissive behavior tempered with fear. Just how many times did you find yourself standing in the line of fire of an alcoholic parent, spouse or dating relationship? Why stop there—maybe one of your relatives played an equally abusive role in casting the film called "Your life." At this point, you were convinced denial was an option to be sold for a premium and abuses were recognized only in the bible.
Catapulting forward some ten, twenty, or thirty years later, and you're still hauling around that fear, as if you were replaying traumatic scenes over and over as a crippling reminder of the thing you desire most to forget. Somewhere lodged in the madness of life, we are all guilty of having reinforced a blissful existence that was in opposition of our anxieties. Now that you've grown up, the only thing that is noticeably different is your external appearance, yet your heart struggles to maintain pace. In your loneliest moments, fear searches for you and sings a melody so sickening that you never forget its eerie tune. You've heard it so many times that you sabotage your future by speaking, thinking and enabling fear into existence without invitation.
Maybe your experience is that fear entered into your life undetected while becoming a regular on the scene, yet loneliness was eventually traded in for depression. One complaint after another, then bitterness set in, and life as you once knew it would never again be the same. Fear introduced itself as conscience, and it's reasoning was always self-directed. The results were persuasive and convincing, and your former relationships were long and distinguished. Fear promoted one failed relationship after another, and your failure to hold true intimacy was always someone else's fault. Somewhere in your ego, you've convinced yourself that you are happy with many partners, but your own soul fails to agree with that faulty logic.
---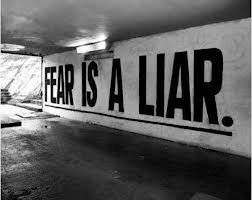 Getting married sounded right at one time, yet your mate failed you time and time again. Maybe they promised to be there and love you through good and bad times, yet they found themselves in someone else's arms—once again fear taunts you with anxieties that seem to always come true. If rain were to fall in one place, it was sure to fall on your head for a lifetime. It's in that moment of despair and hopelessness that your perception of things is fear unto itself. The fog of delusion clouds your vision in a place so black and polluted from anxiety that every emotion imaginable is validated through your character. At no time in the history of life have you ever seen anything so convincing and wicked that demands your soul be bound in absolute captivity—Is there hope? Is there a way out?
---
2 Timothy 1:7, "For God has not given us a spirit of fear, but of power and of love and of a sound mind." (NKJV)
There's nothing like experiencing something that is so traumatic that it causes you to look at everything in life through a completely different lens based upon absolute truth. It never ceases to amaze me of the incredible number of marriages where a husband, wife or both are struggling in every aspect of their relationship. Furthermore, there are many people similar to this who vehemently defends their misery by saying, "Life and marriage stinks, but I won't bail out because I don't believe in divorce." Sadly, the opposite is also true as well—many people living in similar circumstances do not believe in marriage either! Fear is once again working behind the scenes of life to cripple and destroy the things that matter most in your life.
There was a time recently in my life whereby I experienced a medically unexplained and unsolicited trauma to my neck, which physically incapacitated me for an extended period of time. After having experienced multiple medical exams, tests and needles, I was worse off then when I first began. It wasn't until I was laying flat on my back in a completely dark bedroom for three days, that I begged God to take my life because the excessive pain was beyond description.
It was in the chaos of this time that I realized there are millions of people who experience this kind of pain everyday, and that I would be given numerous opportunities to show genuine compassion to them whenever called upon. That single event, changed my life forever, and it was God that came down into my hole of despair and pain to be with me side by side during my suffering, rather than bail me out of my circumstance instantly.
Maybe, you've found yourself in a tragic situation today? Maybe you've been having an affair and you received news that your mistress is pregnant? Maybe, you've recently contracted a sexually transmitted disease and its very serious and you're convinced your life is over? Maybe, you've said some damning things about someone you wish you could take back, but its too late and you're about to face the issue directly. If there were ever a time when you needed peace, its now. Everyone needs a savior, and that includes you.
Until next time, Be encouraged.
---
I speak to hundreds of thousands of young adults, men, women, and couples annually on leadership, decision making, and relationships.  Sometimes life has a way of being the antidote to life itself. If you'd like more information on this topic or how to bring me in as a speaker for your next event, please  contact me.
In the meantime, I encourage you to subscribe to my Tribe/Newsletter on my homepage. Post your comment below, Share my blogs with your friends on social media, and visit my website often for daily inspiration.
---
Egypt McKee
Speaker | Author | TV Host | Life Coach
©2014-2015 Copyright, Egypt McKee. All Rights Reserved.