I've always felt that some of the most significant lessons to be learned in life often present themselves when you least expect it. Last week I decided to go on an early morning workout by powering through a 3.5 mile speed walk. As I gathered my water bottle in one hand and my iPod in the other, I noticed my furry little family West Highland White Terrier, otherwise known as Yoshi, looking at me as if I invited him to come along.
It wouldn't take long before I also grabbed the leash and we set off to do business. As a new resident of the Dallas metropolitan area, I had to remind my nervous system that the humidity and heat at 7AM far exceeded temperatures from my former home in Southern California.
Roughly a mile into our speed walk, I noticed the grassy area where we were walking was filled with prickly thorny weeds and I wanted to protect Yoshi from walking on it because I knew he'd likely injury his paws with cuts and scrapes.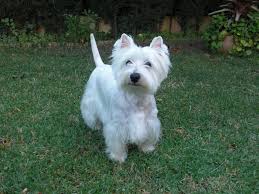 I began to transition into the street and speed up the pace when I noticed Yoshi attempt to do the same right alongside me. At just that moment, Yoshi ran out of the street and back into the prickly thorny weeds to maintain pace, so I attempted to pull him back into the street with me, but he refused.
I began to realize that the pavement where we were speed walking was already blazing hot, and Yoshi decided quickly he'd had enough of that, but I didn't immediately notice due to the comfort of wearing running shoes. At this point, I had an epiphany about life.
My dog enjoyed the experience and process of exercising with me, yet when faced with what I perceived as a painful surface from which to journey through prickly thorny weeds, I wanted to make his journey easier by placing him on the smooth paved street with me where everyone else was walking or running.
In what appeared to be the easier, less resistent, and a more comfortable route, Yoshi determined that the road which appeared most painful and dangerous was in fact a worthy road that he'd rather endure than being on the road where everyone else was running, smiling, moving along swiftly, yet unaware of the fact they were burning.
Listen, there are many ways that seem right, sound right, and feel right in life; but they simply aren't right. Many of those decisions, relationships, and so-called friends end in the same  misery, disfunction, and pain. Everyone loves it when an ending concludes with "happily ever after", yet the only true "happily ever after" is in knowing your purpose in life and the one who gave it to you.  Until next time, Be encouraged.
---
I speak to hundreds of thousands of young adults, men, women, and couples annually on leadership, decision making, and relationships.  Sometimes life has a way of being the antidote to life itself. If you'd like more information on this topic or how to bring me in as a speaker for your next event, please  contact me. In the meantime, I encourage you to subscribe to my Tribe/Newsletter on my homepage. Post your comment below, Share my blogs with your friends on social media, and visit my website often for daily inspiration.
---
Shiraoka sildenafil dapoxetine dosage Egypt McKee
Speaker | Author | TV Host | Life Coach
©2014-2017 Copyright, Egypt McKee. All Rights Reserved.